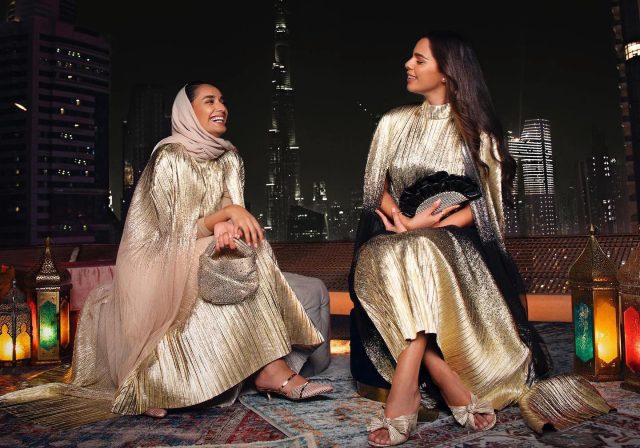 The holy month of Ramadan has arrived, and it can't get any better than this. This month is not only about peace and heart-warming greetings, but it is also about beautifully embroidered prints and trendy Ramadan outfits. Ramadan looks
We sourced a few options that will add some chic to your wardrobe. Here are some picks from local and international brands to get you ready and out the door.
1. Louisa Parris – Lisbon printed silk pants and top
Prints and silk are always a good idea when it comes to kicking off the first few days of Ramadan with style and funkiness. Pair it with white sandals, and you are good to go!
2. Eli Saab- Grosgrain-trimmed striped crepe wide-leg pants
Wide-leg pants add a sense of style and elegance as Eli Saab is not one to disappoint.
3. Mix and Match -Milton Cape
If you are looking for bohemian chic, this outfit is for you. A Milton Cape screams cozy and the perfect loungewear attire. Ramadan looks
4. The Gallery- Multicolored printed kaftan dress
Strut the streets of Cairo with prints and bold colors, as they are the trends this spring season.
5. Dima Ayad -Off Shoulder Summer Dress
Summer is just around the corner, which means summer dresses are your calling. Print and flowy dresses are the perfect addition to the start of your fashion statements.
6. Poncho Merit- Eddukkan
Eddukan gives you a sense of culture and elegance. This is why it is not only perfect for Ramadan's holy month, but it is a beautiful piece to add to your collection.
7. Palma- Cross Slides Zulu
These slides are perfect for the spring. Slip onto those slides and pair it with a white, flowy dress, and you are palm Egypt ready. Ramadan looks
8. Mii- Rock Candy In Multicolor Criss Cross Slides
The details on the slides add a funky element to it, which gives your outfits an extra push to your everyday casual wear. Grab a pair from mii and their picturesque shoes.
9. Elia- Basata Embellished Mules
Unique and one of a kind, Elia creates embellished shoes that add chicness to your outfits. Take our money!
10. Needle &Thread -Sunrise Bloom Ruffle Short Ballerina Dress
This brand offers exquisite evening dresses that are suitable for garden parties or lunch gatherings. The pastel colors are what capture the dress. Take our money, please!
11. Donia El Gindy Boutique- Kaftan
This brand offers a variety of kaftan designs and colors that add a sense of character and colorful patterns. Head down to Almazah, Heliopolis where you can contact them through Facebook and Instagram. Shop till you drop! Ramadan looks
12. Bambah-Lily Floral Embroidered Kaftan
Bambah's Ramadan collection has us fleeting with their breath-taking kaftans and beautiful flare arms. Pair it with a sandal of your choice and a statement earring piece, and you are ready to hit the town.
13. Anatomi –Carnelia
Enhance your wardrobe with one of Anatomi's designs as it adds elegance and sophistication.
14. Alia Jashanmal- Alectrona
Embodiment kaftans help bump up your style during Ramadan outings. Grab one online and create memories during your Sahour and Fetar outings from, one-of-a-kind designer, Alia Jashanmal. Ramadan looks
15. Cos- Puff Sleeve Belted Dress
Casual dresses can be dressed up or dressed down. It depends on your style. You can pair one of your most simple yet versatile dresses with a fabric-like, handbag and slides and you are Ramadan ready.
16. Purificacion Garcia-Ramadan collection
Their Ramadan collection is exquisite and breath-taking. Please take our money! This silk, printed dress flows with you as you glide the streets of Cairo. Order yours now online.
17. Mimi Creative Wear -Long Colored Jacket
Mimi Creative wear creates handprinted kaftans that are inspired by nature and every design they make is created with love. Order yours now on their website where you will find a variety of unique pieces.
18. Trends By SIS- Purple Fusion Kimono
Discover expressive kaftans from unique fabrics and local craftsmanship. Their purple fusion Kimono has caught our eye as it is giving us life with its patterns and creativity. Order yours now through their Instagram page.