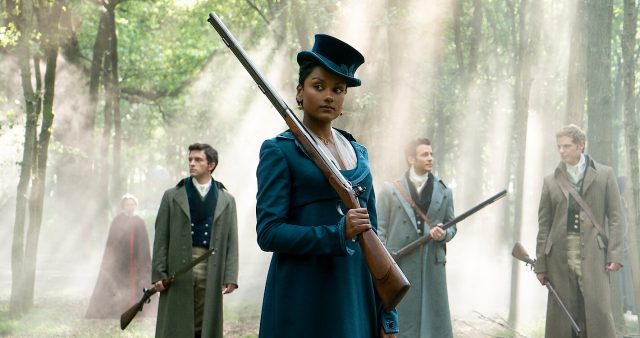 TV Addicts, rejoice! To keep you plugged in to what is premiering every month, we put together a monthly list of new TV series set to air! We've added a description and a trailer for each show, so all you have to do is choose what sounds good and start streaming!
By Mariam Elhamy TV SHOWS Feb
*Shows are listed in alphabetical order
ATLANTA: SEASON 3
Earn, Alfred, Darius and Van are on tour in Europe as they deal with the challenges of their new environment.
BRIDGERTON: SEASON 2
Daphne's brother Lord Anthony Bridgerton (Jonathan Bailey) seeks a wife as Kate Sharma (Simone Ashley) and her younger sister Edwina (Charithra Chandran) arrive on the scene from India in the second season of the historical romantic drama based on Julia Quinn's series of novels.
CRACOW MONSTERS
A young woman haunted by her past joins a mysterious professor and his group of gifted students who investigate paranormal activity and fight demons. A young woman haunted by her past joins a mysterious professor and his group of gifted students who investigate paranormal activity and fight demons.
DICKTOWN: SEASON 2
Nerdy private detective John Hunchman and his jock sidekick David Purefoy investigate oddball mysteries in their small town.
GOOD TROUBLE: SEASON 4
Adams Foster siblings Callie and Mariana relocate to Los Angeles into a communal living apartment building called The Coterie, Callie becomes a law clerk and Mariana becomes a software engineer. The two of them navigate their young adult lives while interacting with their neighbors and the people they befriend.
HUMAN RESOURCES
The "Big Mouth" spinoff series looks at the lives of Hormone Monsters, Depression Kitties, Shame Wizards and the other creatures that guide humans through their own lives.
KOTARO LIVES ALONE
Due to some circumstances, four-year-old Kotaro Sato comes to live by himself in Shimizu Apartments. He makes his daily shopping trips alone with a toy sword strapped to his side.
Both grown-up and childish at the same time, Kotaro starts to affect the people around him with his wise ways. This is the story of a four-year-old boy who is determined to live strong until the day he can live with his parents.
KUNG FU: SEASON 2
Danger is closer to home in the second season of the reimagining of the 1970s series of the same name.
LIFE & BETH
An incident causes 30-something wine distributor Beth (Amy Schumer) to look back into her past and reassess who she is in this comedy series written, directed and produced by Schumer.
MASTERCHEF JUNIOR: SEASON 8
The eighth season of the cooking competition for home cooks between the ages of eight-years-old and 13-years-old introduces new judge Daphne Oz who takes over from Christina Tosi.
ONCE UPON A TIME… HAPPILY NEVER AFTER
A musical comedy created by Manolo Caro and featuring Sebastián Yatra, Mònica Maranillo y Nia Correia.
OUTLANDER: SEASON 6
The American Revolution looms in the sixth season based on Diana Gabaldon's sixth Outlander novel, A Breath of Snow and Ashes.
PIECES OF HER
After 30-year-old Andy Oliver (Bella Heathcote) and her mother Laura (Toni Collette) are involved in a violent incident in their small Georgia town, Andy searches for answers in this adaptation of Karin Slaughter's book of the same name.
SHINING VALE
Pat and Terry Phelps (Courteney Cox and Greg Kinnear) move their family from a small Brooklyn apartment into a Victorian mansion with a terrible history in Shining Vale, Connecticut in this horror-comedy series created by Jeff Astrof and Sharon Horgan.
SOIL
To revamp the family business, a young entrepreneur sets up a bold yet risky plan of importing soil from Morocco to bury his community's deceased.
THE ANDY WARHOL DIARIES
The six-part documentary series from Ryan Murphy and director Andrew Rossi looks at Andy Warhol's life based on the artist's posthumously published diaries.
THE GUARDIANS OF JUSTICE
When their seemingly fearless leader self-destructs, troubled superheroes must confront evil in the world — and in themselves.
THEODOSIA
Set in 1906, Theodosia centers on 14-year-old Theo as she gathers an eclectic team that includes her younger brother Henry, along with friends Will and Egyptian Princess, Safiya, to fight a powerful secret society bent on destroying the world with ancient Egyptian dark magic.
UPLOAD: SEASON 2
Ingrid arrives in Lakeview seeking to fortify her relationship with Nathan, but he has feelings for customer service angel Nora (Andy Allo) in the second season of the sci-fi comedy created and written by Greg Daniels.
The comedy series explores more of the early years of Dwayne "The Rock" Johnson's life in the second season.