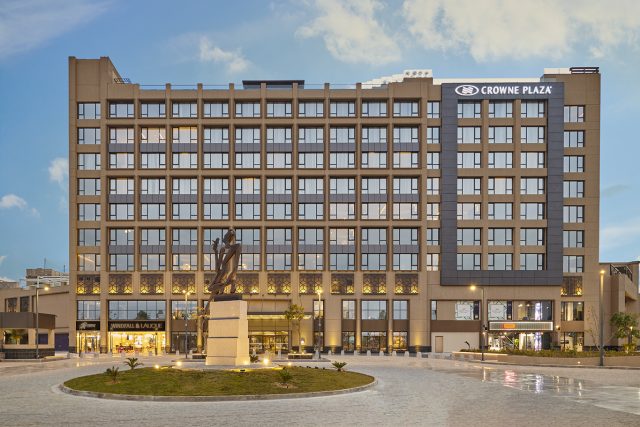 Part of the iconic community landmark Arkan Plaza, Crowne Plaza West Cairo – Arkan brings upscale comfort and seamless service to the west of the capital.
The hotel's 178 New Modern guestrooms are designed with your wellbeing in mind, providing you with the perfect work-life balance.
You'll find designated workspaces to inspire and encourage you, while the relaxing, cocooned sleep zones will make sure you're well-rested each morning.
Have an upcoming event to plan? All of the hotel's distinctive indoor and outdoor spaces are available for all types of events including meetings, cocktails, social gatherings, product launches and team training.
Just give them the "what" and allow their dedicated team to take care of the rest!
Home to an array of exquisite dining options, Crowne Plaza West Cairo-Arkan will most certainly unleash your inner connoisseur.
Taking you on a journey along the Mediterranean coast, our all-day dining restaurant, Amphora, serves an impressive selection of much-loved, delicious dishes, infused with tantalizing flavors and powerful aromas.
Experience inspiring interiors or enjoy the restaurant's spacious terrace with direct access to Arkan Plaza. Mayrig offers vibrant Armenian recipes blended with silk road spices.
Treat yourself to traditional favorites or fusion delicacies for an unforgettable gastronomical experience.
Miss Li Lee's blends contemporary design with traditional, cultural elements coupled with a statement ceiling, edgy décor and colorful murals.
Enjoy exquisite Pan-Asian favorites and signature cocktails as you take in the spectacular views of the city from Miss Li Lee's outdoor terrace.