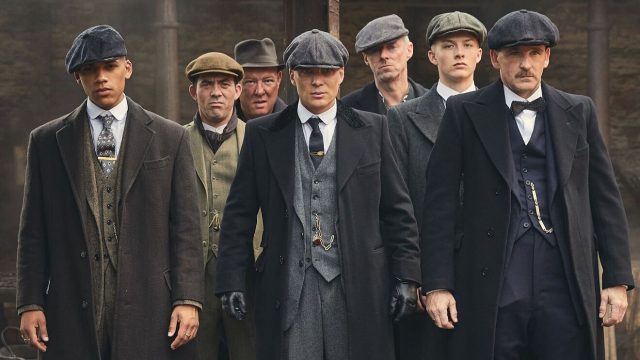 TV Addicts, rejoice! To keep you plugged in to what is premiering every month, we put together a monthly list of new TV series set to air! We've added a description and a trailer for each show, so all you have to do is choose what sounds good and start streaming!
By Mariam Elhamy
*Shows are listed in alphabetical order
BABY FEVER
Meet Nana, the doctor that always knows how to best connect to her patients, no matter what it takes.
FIRST KILL
New vampire Juliette (Sarah Catherine Hook) and vampire hunter Calliope (Imani Lewis) both seek their first kill but they develop romantic feelings for each other in this series based on the V.E. Schwab's short story.
FLOOR IS LAVA: SEASON 2
In Floor Is Lava Season 2, teams will traverse various obstacle courses trying their best to avoid the "lava" below. And Netflix promises there are "bigger obstacles, higher stakes, and even hotter lava," in the new episodes, plus a huge and very slippery volcano.
FOR ALL MANKIND: SEASON 3
The third season of the Ronald D. Moore sci-fi series jumps forward to 1990s as Mars becomes the newest space race goal.
FOR THE LOVE OF JASON: SEASON 2
Follows the modern experience of being single in your 30s from a male's perspective.
GOD'S FAVORITE IDIOT
Mid-level tech support employee Clark Thompson (Ben Falcone) suddenly begins to glow and learns needs to get his co-workers to help him save mankind from Satan (Leslie Bibb) in this comedy created by Falcone nd Melissa McCarthy.
IN THE DARK: SEASON 4
An irreverent blind woman in her twenties, Murphy, drifts through life in a drunken haze. She has only two friends—Jess, her understanding roommate, and Tyson, a teenage drug-dealer who saved her from a violent mugging.
LOVE & ANARCHY: SEASON 2
Sofie, Max and the team at Lund & Lagerstedt are finally back! Get ready for more drama, more anarchy and a whole lot of love.
MALDIVAS
Don't be fooled by appearances: there are many secrets behind the Maldivas vibrant condo in Rio de Janeiro. Liz, a new resident of the condominium, seeks to understand the mysteries behind her mother's death but ends up discovering that each of her neighbors has something to hide. 
MONEY HEIST KOREA
With the reunification of North and South Korea in sight, the Professor (Yoo Ji-tae) and the thieves he recruits, aim to steal the newly printed currency from the mint in this Korean adaptation of Money Heist.
MS. MARVEL
16-year-old Pakistani-American Kamala Khan is struggling to find her place at her Jersey City school and at home when she suddenly gets superpowers like her favorite superhero, Captain Marvel.
PEAKY BLINDERS: SEASON 6
A notorious gang in 1919 Birmingham, England, is led by the fierce Tommy Shelby, a crime boss set on moving up in the world no matter the cost. The
 sixth and final season begins in 1933 with Tommy Shelby seeking new opportunities.
PHYSICAL: SEASON 2
Sheila first fitness video is doing great but there are new competitors and she also is drawn someone new in the second season of the Annie Weisman dramedy.
QUEER AS FOLK
The reimagining of the Russell T. Davies' Queer as Folk from Stephen Dunn is set in New Orleans where a group of friends are changed by a violent attack on their community.
THAT'S MY TIME WITH DAVID LETTERMAN
Recorded at the Netflix Is A Joke Fest, up-and-coming stand-up comedians perform a set and sit down to talk with David Letterman.
THE BOYS: SEASON 3
It's been a year of calm. Homelander's subdued. Butcher works for the government, supervised by Hughie of all people. But both men itch to turn this peace and quiet into blood and bone. So when The Boys learn of a mysterious anti-Supe weapon, it sends them crashing into The Seven, starting a war, and chasing the legend of the first Superhero: Soldier Boy.
THE UMBRELLA ACADEMY: SEASON 3
Super. Sibling. Rivalry. Season three of The Umbrella Academy.