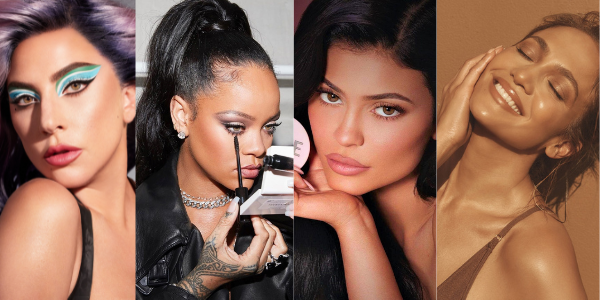 The last few years have seen a whirlwind of celebrities knocking it out of the park in the beauty industry with products that rock. Here we go with a few celebrity makeup brands that have been taking the beauty world by storm.
Fenty Beauty – Rihanna
Rihanna a.k.a badgalriri is one of the few celebrities who successfully got the ball rolling. Fenty Beauty launched in September 2017 and gave us beautiful, dependable products and significantly broadened the foundation range for all.
Her beauty products have made an impact in the beauty industry, and we can say we can't live without our Fenty Beauty. Celebrity Makeup Brands
JLo Beauty- Jennifer Lopez
Superstar Jenny from the block has been putting her nickname on fragrances for nearly 20 years before the launch of JLo Beauty. She broke into the skincare products, giving us her secret to perfect skin. We can all strive to age gracefully like her one day.
Rare Beauty- Selena Gomez
The most highly anticipated celebrity beauty brand that launched in 2020, Rare Beauty cemented Selena Gomez's already influential presence on the beauty scene.
Selena enhanced her beauty line with mental health awareness which she already emphasizes daily, creating a safe place for people to connect and feel beautiful from the inside out. Her brand successfully became a hit with her lip soufflés and liquid blushes.
Kylie Cosmetics- Kylie Jenner
Kylie Jenner has already established herself in the beauty game and is named one of the biggest names in the beauty industry. Her lip kits are what shaped and expanded her company on the makeup map. Celebrity Makeup Brands
And it was not long ago she expanded her line with Kylie Skin and recently, Kylie Baby. At the age of 22, Kylie Jenner has been officially declared a billionaire. All of her products come clean, vegan, cruelty-free, and gluten-free.
Haus Laboratories- Lady Gaga
Lady Gaga's much anticipated Haus Laboratories makeup line was created to make you feel good about yourself when looking in the mirror. Lady Gaga is known for her bold looks. Therefore, her makeup products are there to stay and I mean to stay; waterproof, vegan, and cruelty-free.
The most popular product, her liquid eyeliner, is a stealer as it gives you a matt finish, is super pigmented, with an easy-to-wipe application, as well as being waterproof, smudge-proof, and transfer-proof. We definitely approve!
R.E.M Beauty- Ariana Grande
International superstar Ariana Grande, known for her impeccable, astounding voice, has finally launched the makeup line her fans were waiting for. During her Sweetener World Tour, her costume and makeup change was a game-changer that embodied her identity.
R.E.M Beauty was named after her titled album, Sweetener. She gravitates towards the '50s, '60s, and '70s with makeup looks that are constantly changing. Her beauty line introduced a space theme, giving you creative and creamy products to work with. The famous lip gloss that she rocks so well has also been developed as a plumping lip gloss.
Kim Kardashian West- KKW Beauty
KKW Beauty makeup line was introduced in 2017, shortly after the launch of KKW Fragrance. Entrepreneur Kim Kardashian is a walking, talking human brand. When her name is mentioned, money starts flowing. Celebrity Makeup Brands
Her makeup line embodies her schemes of neutrals with cream contour and lip liners in browns and nudes, an essential part of what truly captures KKW Beauty.
Soft Glamorous Makeup Looks To Try Out By 3 Egyptian Makeup Artists