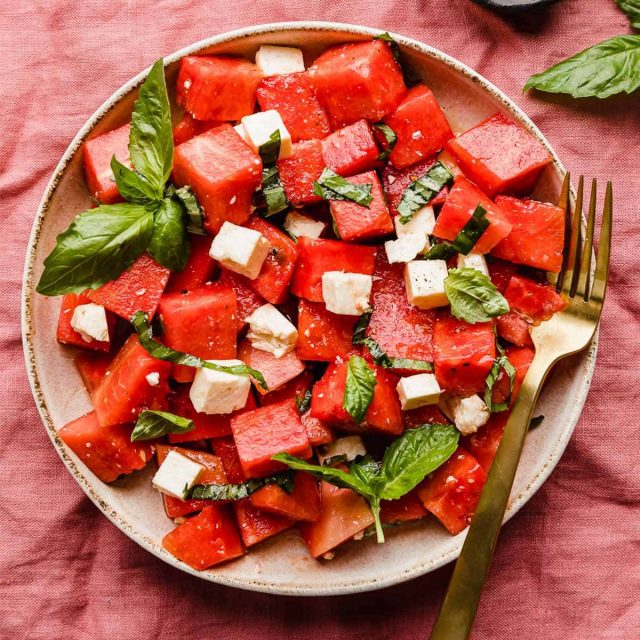 Top of anyone's list simply must be a traditional Greek salad. No, we don't mean those over-chopped, sad-looking imitations that are plied in eateries across the globe. The real thing is simple, robust, singing with fresh ingredients and bursting with color.
Greek Horiatiko Salad
Ingredients:
3 medium-sized firm ripe tomatoes, cut into wedges
1 medium cucumber, washed but unpeeled, thickly sliced
1 medium green bell pepper, roughly sliced with seeds removed
1 red onion, cut into thin slices
12 Kalamata olives, always whole, never pitted
Sheep's milk feta, always served in a large chunk
Extra Virgin Olive oil
Large pinch dried oregano, tossed with the salad or just sprinkled on top
Sea salt to taste (remember that feta is already salty)
Splash of red wine vinegar (optional)
Preparation:
Lightly mix salad vegetables and place in a large shallow bowl. Place the feta on top, drizzle with olive oil and a little vinegar, sprinkle with oregano and team up with crusty bread and a big serve of sunshine. feta salads
Watermelon and Feta Salad
Fresh and cooling, this is an easy-to-make crowd-pleaser for any summer day.
Ingredients:
1 medium ripe watermelon, seeds and rind removed and flesh cubed
300g feta cheese, cubed or crumbled
¼ cup extra virgin olive oil
¼ cup fresh lime juice
1 tablespoon red wine vinegar
1 teaspoon sea salt (or less, to taste)
⅛ teaspoon freshly ground black pepper
½ cup lightly packed fresh mint leaves or fresh basil leaves
Preparation:
In a large bowl, combine cubed watermelon and feta cheese. In a small bowl, make the lime dressing. Whisk together olive oil, lime juice, red wine vinegar, salt, and pepper until emulsified.

feta salads

Drizzle watermelon salad with lime dressing and toss gently to coat. Let marinate at least 5 minutes. Immediately before serving, toss with fresh herb leaves.
Recipe courtesy of Sainsbury
Beetroot, Orange and Feta Salad
Festive and colorful, sweet, earthy and tangy elements combine to make this a top-rated summer salad. feta salads
Ingredients:
4 oranges
1 tablespoon red wine vinegar
2 tablespoon extra-virgin olive oil
500g cooked beetroot in small chunks
200g feta, crumbled
Several sprigs of mint, leaves only
Preparation:
Using a sharp knife, remove the peel and pith from the oranges, then cut into segments. Reserve any juice (you'll need 4 tablespoons). Add the vinegar, oil and seasoning to the juice and whisk.
Toss the beetroot and oranges with some dressing. Add the feta and mint. Pour on the rest of the dressing. Chill slightly before serving.
Recipe courtesy of John Gregory-Smith
Cantaloupe, Cucumber and Feta Salad
Cool and refreshing, but packing plenty of flavor, this could be a hit at your next beachside lunch party.
Ingredients:
5 tablespoons extra-virgin olive oil, divided
2 tablespoons toasted sesame seeds, divided
1 tablespoon ground sumac
2 teaspoons chopped fresh oregano
2 teaspoons chopped fresh thyme (zaatar)
¼ teaspoon sea salt
½ large cucumber, thinly sliced
2 tablespoons lime juice
1 large cantaloupe, seeded and cut into 8 wedges
1 cup coarsely crumbled feta cheese
Preparation:
Combine 4 tablespoons oil, 1 tablespoon sesame seeds, sumac, oregano, thyme and salt in a small bowl. Toss cucumber with the remaining 1 tablespoon oil and lime juice in a medium bowl.

feta salads

Arrange cantaloupe and the cucumber on a serving platter and drizzle with any liquid remaining in the bowl. Top with feta, the dressing and the remaining 1 tablespoon sesame seeds.
Recipe courtesy of Eating Well
Lentil Salad with Feta, Tomatoes, Cucumbers and Olives
This Mediterranean lentil and vegetable salad, with feta cheese and a light dressing, is a simple but tasty dish to liven up your table. feta salads
Ingredients:
3 cups cooked brown lentils
2 cups multicolored cherry tomatoes, halved
1 ½ cups chopped cucumber
½ cup coarsely chopped pitted Kalamata olives
½ cup thinly sliced red onion
½ cup crumbled feta cheese
½ teaspoon salt, divided
½ teaspoon ground pepper, divided
3 tablespoons red wine vinegar
1 tablespoon finely chopped shallot
½ teaspoon minced garlic
½ teaspoon honey
¼ cup extra-virgin olive oil
Preparation:
Combine lentils, tomatoes, cucumber, olives, onion, feta and 1/4 teaspoon each salt and pepper in a large bowl then set aside. Whisk vinegar, shallot, garlic, honey and the remaining 1/4 teaspoon each salt and pepper in a small bowl.
Gradually whisk in oil until well combined. Gently stir the dressing into the lentil mixture. Serve immediately or cover and refrigerate for up to 5 days.
Recipe courtesy of Eating Well