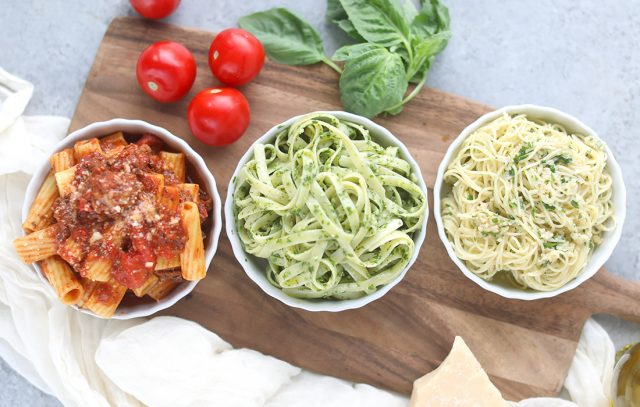 Entertaining in summer can mean unexpected guests. So we say it's time to bring on the pasta! As easy to prepare for a crowd as it is for one or two, pasta has sustained large extended Italian families for generations.
From spaghetti and tagliatelle to penne and fusilli, and all the others in between, pasta is as versatile as food can be. Throw on a sauce to suit your mood and budget and you will win hearts and compliments.
Pasta al Limone
When lemon season comes around in the south of Italy and Sicily, you will find this traditional dish wherever you go. Simple, fresh and super easy to prepare, it has definite 'wow' factor.
Ingredients:
Butter, generous dollop
Italian lemon, both juice and zest
½ large cup Parmesan cheese, finely grated
1 pack good quality spaghetti noodles (or fettucine or linguine)
Freshly ground black pepper
Salt
Olive oil
Crushed garlic (optional)
Basil or parsley for garnish
Preparation:
Boil salted water in a medium saucepan, then add your pasta. Cook till al dente, reserve 1 cup of the pasta water, then drain the noodles.
As the pasta finishes cooking, sauté the garlic, if desired, with the butter.
Immediately transfer the hot pasta to a large deep pan with the butter with olive oil and garlic. Add part of the pasta water and toss the pasta until it is coated in the sauce. Keep on tossing. Add the lemon zest and juice, then add the cheese.
Toss continuously, adding in salt and pepper.
Serve hot with additional cheese and black pepper, and garnish with a sprinkle of the fresh herb of your choice.
Recipe courtesy of Well Plated
Spaghetti Con La Bottarga
While it would be fun to enjoy this luxurious pasta in Sardinia, where it reigns as a traditional dish, we think it tastes just great anywhere. So, go ahead and indulge!
Ingredients:
60g bottarga (batarekh), grated, but reserving a final portion for grating over the finished dish
1/2 cup extra-virgin olive oil
2 garlic cloves, lightly crushed
1/4 to 1/2 teaspoon red pepper flakes
Sea salt
340g dried long pasta such as spaghetti, fettucine, or linguine
1 loosely packed cup fresh parsley leaves and tender stems, finely chopped
1 tablespoon fresh lemon juice, plus finely grated zest of 1 lemon
Preparation:
In a large straight-sided sauté pan, combine oil and garlic. Cook over medium heat, turning garlic cloves occasionally until garlic is deep golden brown on all sides, about 5 minutes. Using tongs or a slotted spoon, remove garlic from pan; reserve garlic for another use or discard. Add red pepper flakes and continue to cook, stirring constantly, until fragrant, about 30 seconds. Remove pan from heat, allow to cool slightly, then add most of the grated bottarga and stir until well-combined with olive oil; set aside.
Add pasta to a large pot of salted boiling water and cook, stirring frequently for first 30 seconds to prevent noodles from sticking. Cook pasta until al dente. Just before pasta is ready, transfer 1/2 cup of the pasta cooking water to the pan with olive oil-bottarga mixture, and stir to combine with a rubber spatula.
Drain pasta, making sure to reserve at least 1 cup of pasta cooking water. Rapidly stir and toss pasta until sauce is emulsified, evenly coating noodles, and gradually adding extra pasta water until the sauce is the right consistency. Add parsley, lemon juice and zest, and stir to combine. Season with salt to taste. Divide between individual serving bowls, grate remaining bottarga over top, and serve.
Recipe courtesy of Serious Eats
Pasta al Gorgonzola
The famous blue veined Italian cheese is the star of this punchy pasta sauce, but we also find any good quality blue cheese works quite well.
Ingredients:
1 packet tagliatelle, or your favorite pasta of any type
4 tablespoons extra virgin olive oil
1 cup walnuts, chopped coarsely
Sea salt and freshly ground black pepper, to taste
2-3 garlic cloves, thinly sliced
2 cups Gorgonzola cheese, crumbled
Preparation:
Combine olive oil and garlic in a large frying pan and cook on medium-low for about 3-5 minutes, just until the garlic starts to color. Do not let it burn. Stir in the walnuts, mix well, and remove from heat.
In the meantime, cook pasta until al dente. When almost ready, remove ½ cup of pasta water and add to frying pan and place on low heat. Add pasta and cheese, mix well, and add salt and pepper to taste.
Stir and mix well again and cook until water is almost evaporated. Remove from heat and serve with a garnish of freshly chopped parsley.
Recipe courtesy of Mangiamagna
Spaghetti alla Nerano
Finding instant stardom after being shown in the hit TV series Stanley Tucci: Searching for Italy, this zucchini-based pasta has always been one of our favorites.
Ingredients:
Sunflower oil, as needed
6 medium green zucchini
1 packet spaghetti
2 tablespoons olive oil
1 pinch salt
2 basil leaves, torn into small pieces
2 tablespoons unsalted butter
5 tablespoons grated Pecorino Romano cheese
3 tablespoons grated Parmigiano-Reggiano cheese
Preparation:
One day prior, place sunflower oil in a deep frying pan and heat to 175 degrees C. Slice zucchini into rounds of medium thickness. Add some zucchini to the hot oil and fry until lightly browned, 4 to 5 minutes. Transfer to a single layer on paper towels to drain and repeat to cook remaining zucchini. Let zucchini cool to room temperature. Transfer cooled zucchini to a bowl. Cover and refrigerate, 8 hours to overnight. Note: We have successfully prepared the dish by just allowing the zucchini to cool.
Cook spaghetti in the boiling water, stirring occasionally, until al dente. As you are cooking the spaghetti, heat olive oil in a deep pan over medium heat. Add zucchini and salt and cook, stirring occasionally, until it starts to release juices, soften, and break down, 3 to 5 minutes. Add a couple splashes of the pasta water to the zucchini, but don't overdo it. Break zucchini into small pieces with the edge of a spoon or spatula. Reduce heat to low and toss in basil and butter; stir until butter melts.
Transfer the spaghetti into the sauce; stir until coated. Mix in Pecorino Romano and Parmigiano-Reggiano cheeses. Add a final splash of pasta water and adjust salt if needed.
Serve with more grated cheese and fresh basil.
Easy Mouthwatering Recipes for When you Don't Feel Like Cooking