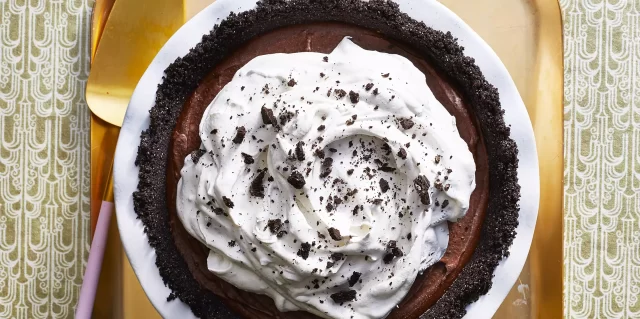 This list of Oreo desserts features Oreos as the star of each recipe, so if you're obsessed with Oreos these Oreo recipes are sure to satisfy your cravings. These ideas can be ideal for a sweet snack and great for your next party or event! Oreo Recipes
By Mariam Elhamy
Oreo Stuffed Brownies
These gooey brownies have crunchy and creamy crushed oreo bits in every bite. The perfect dessert if you're craving something chocolatey and sweet.
Ingredients:
10 tbsp unsalted butter
1 ½ cups granulated sugar
¾ cup unsweetened cocoa powder
¼ tsp salt
2 eggs
2 tsp vanilla extract
½ cup all-purpose flour
½ cup semi-sweet chocolate chips
20 Oreos
Method:
Oreo Pops
The best cake pops you're ever going to eat are oreo pops. Who knew crushed Oreos make the perfect texture for this dessert? Oreo Recipes
Ingredients:
450g

Oreos, crushed

1 (230g) package cream cheese, softened

450g

white chocolate, melted
Method:
Place the Oreos in a sealable bag and remove all the air. Using your hands or a rolling pin, crush the cookies to a fine powder. You can also use a food processor.
Transfer the crumbs to a bowl and add in the softened cream cheese. Mix well.
Line a tray or baking sheet with parchment paper. Form the dough into small balls and place on the baking sheet. Freeze the Oreo balls for 20 to 30 mins.
Dip the balls into the melted white chocolate. Allow the balls to cool. Refrigerate until ready to eat.
Oreo Cheesecake Bites
These mini oreo cheesecake bites will make the perfect dessert for your next party. Good thing they're so easy to make so you can focus on the rest of your cooking.
Ingredients:
Crust:
15 Oreo cookies, crumbled
3 tbsps. of melted butter
Filling:
1 package (180 g/6 oz) of cream cheese
8-10 Oreos, crushed
¼ cup sour cream
2 tbsps flour
1 egg
½ cup of melted chocolate for serving
Method: 
1. Preheat your oven to 350 F (180° C). Line a cupcake tray with foil.
2. For the crust, mix Oreo crumbs with melted butter. Scoop about 1 ½-2 tbsps. of mixture into each cupcake mold and press as firmly and evenly as possible. Bake for 10 minutes and then let cool completely.
3. Lower the temperature to 320 F (160 degrees C). Whisk cream cheese, flour, egg and sour cream together. Add crushed Oreos into the batter.
4. Pour the batter into cupcake molds and return to the oven for 40 minutes more.
5. Let the cheesecake bites cool completely, remove from the pan and drizzle with melted chocolate. Oreo Recipes
Creamy Oreo Dip
Can we all agree to make dessert dips from now on? This creamy Oreo dip you can eat with a spoon with strawberries or even Oreos!
Ingredients:
1 (8 ounce) package cream cheese, softened
1/2 cup butter, softened
1 cup whipped cream
1 cup powdered  sugar
2 tbsp brown sugar
1 tsp vanilla extract
2 cups crushed Oreos, divided
Method:
Using a stand mixer, beat butter and cream cheese until fluffy. Add in whipped cream, sugars and vanilla, beat until smooth. Stir in Oreos by hand. Serve with mini Oreos, graham crackers or vanilla wafers.
Oreo Mug Cake
Time to bring out your biggest mug cause you're about to make a very easy but very yummy dessert. All these ingredients are probably already in your pantry so get mixing!
Ingredients:
6

 

tbsp

 

milk

1

 

tbsp

 

oil

1/4

 

cup

 

flour

2

 

tbsp

 

unsweetened cocoa powder

2

 

tbsp

 

sugar

2

 

Oreos

 

lightly crushed, plus extra to top

1/4

 

tsp

 

baking powder

1

 

pinch

 

salt

1

 

tbsp

 

chocolate chips

 

or chopped chocolate
Method:
In a large mug, whisk together the milk and oil.
In a small bowl, mix together the flour, cocoa, crushed Oreos, sugar, baking powder, and salt. Add the flour mix to the mug and mix well until there are no lumps.
Sprinkle on the chocolate and extra crushed Oreos.
Place on a microwave-safe plate and microwave for 1 min and 20 seconds. Let cool slightly and enjoy!

Oreo Recipes