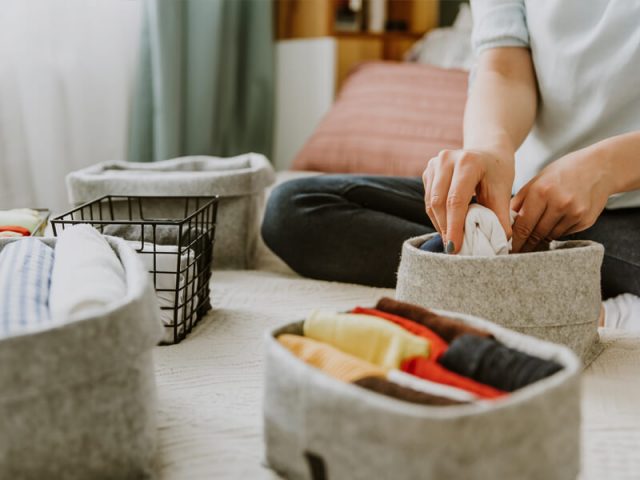 It's time to declutter your brain, but first, let's start with your house! Did you know that clutter can make you feel stressed, anxious and depressed? Who knew that a messy room could have so much weight? Try these decluttering hacks and we promise you'll feel immediately lighter!
By Mariam Elhamy
Buy an Ottoman with a Hidden Storage Area
You can use this ottoman to store shoes to easily grab and wear on your way out or for things you don't use daily. declutter
Save Space by Hanging Pot Lids on Cabinet Doors
Hang your pot lids on command hooks or bent nails on cabinet doors.
Stick your Spice Containers to the Fridge
Minimize kitchen clutter by sticking a magnet to the bottom of your spice containers and sticking them to the side of your fridge.
Store Cleaning Supplies in a Shoe Organizer
Hang the shoe organizer in your cleaning closet, laundry cupboard or wherever you can easily access it when cleaning the house.
Organize Messy Cords With Toilet Paper Rolls
Using contact or sticky colorful paper, use your crafty skills to beautify some toilet paper rolls and place all your tangled cords inside them.declutter
Hang Ties, Belts and Scarves On A Hanger in Shower Hooks
To be able to see your scarves and ties, hang them separately in shower hooks on a hanger.
Divide Drawers with Colorful Cereal Boxes
Cut some empty cereal boxes in half and cover them with colorful paper and use them to divide spaces inside your drawer to separate all your chargers, makeup, jewelry, etc.
Maximize Space in Bathrooms Using Vertical Storage
If your bathroom is small then this hack will provide you with the storage space that you need. Buy a vertical rack that is both stylish and practical to put all your bath salts, towels, candles, shampoos and creams on. declutter
Repurpose an Old Ladder To Hang Your Towels
You've probably never seen this anywhere else but it adds a rustic look to your bathroom.
Utilize your Fridge Space With Pullout Baskets
Use Pullout baskets to store eggs, fruits and veggies in your fridge.
Fold Bedsheets Inside Their Matching Pillowcases
Saving you the hassle of having to find the matching pairs.
Use stick-on Containers On The Wall or Cabinet Doors
Stick-on containers can be very handy when organizing and saving space. They come in different shapes and sizes.
More decluttering tips:
Don't use too many rugs, just stick with one statement piece in the center of each room.
Whenever you buy new clothes make a habit of donating old things that you haven't worn in over a year.
 Stick remote controls on the wall or to the side of a table.
Redecorate Your Home with a Few Inexpensive Hacks